New York, NY — Adult Polyglucosan Body Disease (APBD) researcher Felix Nitschke, PhD at UT Southwestern Medical Center recently received a $121,268 grant to advance rare disease research from the University of Pennsylvania's Million Dollar Bike Ride (MDBR) program.
For the fifth consecutive year, the APBD Research Foundation partnered with the University of Pennsylvania's Orphan Disease Center to participate in the Million Dollar Bike Ride program. This program provides a one-year pilot grant to support research related to a rare disease represented in the Million Dollar Bike Ride.
Last June, with national pandemic lockdowns in place, the APBD Research Foundation rallied 80 community members to join the APBD Tour de Friends biking team and accomplish a virtual ride in their neighborhoods, gyms, and homes – as their abilities and options permitted. The group raised $91,268 and received a maximum match from the Orphan Disease Center for $30,000 additional. In the fall, APBD researchers worldwide were invited by the Orphan Disease Center to submit proposals for grant support.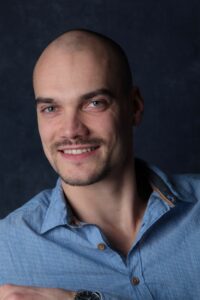 Dr. Felix Nitschke (pictured) is an assistant professor in the departments of Pediatrics and Biochemistry at UT Southwestern Medical Center. Dr. Nitschke's winning proposal titled, "Conquer from Within – Treating APBD by Viral Delivery of Cross-Correction-Enabled Amylase" outlines the development of a novel gene-based therapy for APBD.
APBD is an ultra-rare, adult-onset form of Glycogen Storage Disease Type IV that presents as a progressive neurological disorder. It is caused by recessive mutations in the glycogen branching enzyme gene (GBE1) that result in the accumulation of poorly branched, insoluble glycogen aggregates called polyglucosan bodies (PBs). As these PBs accumulate in the central and peripheral nervous system, they cause a cascade of reactions resulting in progressive neurodegeneration and reduced life expectancy.
With no current treatments for APBD, the development of a novel therapeutic strategy that removes PBs with the goal of halting — or possibly reversing — the progression of the disorder brings hope to patients. This strategy involves delivery of the enzyme amylase fused to an antibody fragment — Fab-AMY2A — to digest PBs. Continuous delivery of the Fab-AMY2A protein to the central nervous system of Lafora disease mice (another PB-accumulating disease) has been shown to reduce brain PBs. However, this method of delivery presents challenges in clinical translation to humans.
Dr. Nitschke is working on vectorizing Fab-AMY2A and designing a single-dose AAV9 vector that delivers "cross-correction-enabled" amylase. "Cross-correction" is an approach to increase the distribution and efficacy of a therapeutic protein in the target tissue.
Dr. Nitschke shared, "My team and I will test several Fab-AMY2A constructs in cell culture and select the most promising construct for AAV9 vector production. This AAV9 vector will then be administered to APBD model mice. Using different injection routes, we aim to identify the most efficacious way to utilize "cross-correction-enabled" amylase in order to reduce polyglucosan bodies in the central nervous system."
Dr. Nitschke added, "We are particularly interested in diseases such as APBD and Lafora disease where insoluble glycogen is accumulating with severe neuropathological consequences. We would like to better understand the molecular mechanisms that keep glycogen soluble and, at the same time, find ways to eliminate insoluble glycogen in the brain. "Cross-correction-enabled" amylase is a promising approach to treat APBD and Lafora disease. With Fab-AMY2A, we are spearheading the development of our TRUST (To Reach Ultimate Spread of Transgene) platform that aims to tackle current barriers of virus-mediated enzyme replacement therapy. The success of Fab-AMY2A in APBD has clear implications for any treatment that requires long-term and wide-spread delivery of the therapeutic protein."
Harriet Saxe, a member of the APBD Research Foundation's Board of Directors shares, "Partnering with the Orphan Disease Center's Million Dollar Bike Ride continues to advance critical APBD research. For an ultra-rare disease community — impacted by a devastating neurodegenerative disease — the Orphan Disease Center's commitment to rare diseases and funding of Dr. Nitschke's research promises to deliver the breakthroughs we seek."
This summer the APBD Research Foundation will be participating in the 2021 Million Dollar Bike Ride — once again bringing patients, caregivers, family, and friends together to accelerate APBD research.
About the Adult Polyglucosan Body Disease (APBD) Research Foundation
The APBD Research Foundation's mission is to improve the diagnosis and treatment of APBD patients, support individuals and families affected by the disease, and increase awareness of APBD among health professionals and the public. To learn more about APBD and the APBD Research Foundation, visit www.apbdrf.org.
About the Orphan Disease Center
The Orphan Disease Center is a non-profit organization based in the University of Pennsylvania's Perelman School of Medicine. Its mission is to develop transformative therapies using platform technologies that can be deployed across multiple rare diseases. The Orphan Disease Center focuses on disorders having substantial unmet needs independent of their incidence and strives to assure access to patients of all populations. The Million Dollar Bike Ride's 30+ teams have raised over $10 million to fund research grants on the diseases they represent. The Orphan Disease Center ensures that 100% of the funds raised goes towards these pilot grants, with no overhead taken out. To learn more, visit orphandiseasecenter.med.upenn.edu.