Special Disability Aids
The following  suggestions made by members of the APBD community are aids that have personally helped them in activities of daily living.  They in no way represent recommendations by the APBDRF. we strongly recommend that qualified help professionals be involved in any decision-making regarding the use of any of these devices.
Matia Robotics Tek RMD – Robotic Mobilization Device
Established 1983 in Virginia,  Area Access specializes in mobility for the physically challenged.  They offer scooters, walkers, stairway lifts, wheelchair lifts, home elevators, and car transfer seats.  They install and service their equipment. Their headquarters is located in Manassas with showrooms also in Richmond and Norfolk.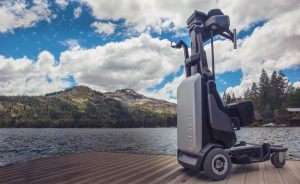 More info: http://www.matiarobotics.com/gallery/
---
Accessible accommodations, apartments and hotels for disabled worldwide – Handiscover
https://www.handiscover.com/en-US/
---
https://www.youtube.com/watch?v=Er-Qs8lFXSE
https://www.youtube.com/watch?v=mwWs955Wkjc
---
Presenters discuss wheelchairs and scooters