By Harriet Saxe, Member of the Board – APBD Research Foundation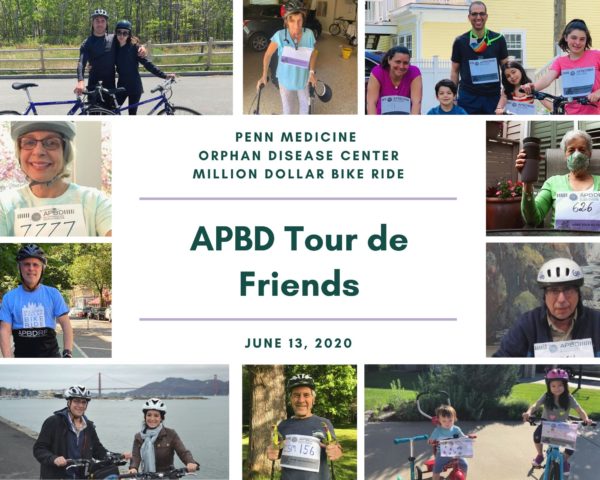 View pictures from our APBD Tour de Friends members here…
When it was scheduled for June 13, 2020, no one imagined that a pandemic would impact plans for this year's Million Dollar Bike Ride for rare disease research.
With the country in lockdown, the Bike Ride's sponsoring organization — the University of Pennsylvania's Orphan Disease Center — moved the event off the streets of Philadelphia and onto a virtual platform.  
This was our Foundation's fifth year of admission to the Bike Ride, a significant source of funds for APBD research. At the Foundation, we challenged ourselves to think outside the box and to develop a creative way to honor the spirit of the Bike Ride and make it an especially compelling fundraiser.
First, we encouraged participation in the Bike Ride using any mode of transportation that would be both fun and safe while maintaining social distancing. As a result, some of our participants went out on bicycles, while others rolled through their neighborhoods on roller skis, skateboards, mobility scooters, and tricycles.  Still others, who could not leave their homes, used treadmills, exer-cycles, skateboards, and even lounge chairs to do their part. 
Look for Harriet Saxe at 21 minutes into the video!
Another step we took this year included opening up participation on the APBD Tour de Friends team to all ages, which resulted in a group of "riders" ranging from age 16 months to 82 years.
To add even more fun and create a fashion statement, we designed an APBD Tour de Friends riding bib, All Tour de Friends team members were encouraged to add their favorite number as their event identifier. 
Fundraising during a time when lives are disrupted by a virus that threatens health and welfare is extraordinarily difficult.  Our community rallied in full force and raised $120,000, including a dollar-for-dollar match of $30,000 by the University of Pennsylvania.
UPenn — on the Foundation's behalf — will open a request for research proposals from the scientific community later this summer. Thank you to our supporters who gave generously and to the riders who joined forces to defeat APBD!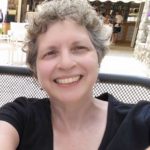 Harriet Saxe is a member of the Adult Polyglucosan Body Disease Research Foundation's Board of Directors. She joined the Board in 2014 to help her husband, Chuck Saxe and other APBD patients find a treatment and a cure.