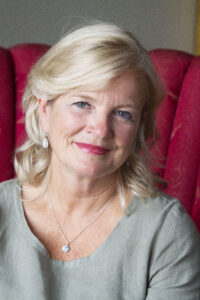 The APBD Research Foundation today announced that Angela Genge, MD, FRCPS, — executive director of the Clinical Research Unit at the Montreal Neurological Institute-Hospital — has joined the Foundation's Scientific Advisory Board.
"Dr. Genge is a world-renowned expert in rare neurodegenerative diseases and ALS clinical research," said Jeff Levenson, co-president of the Foundation. "We are delighted to welcome Dr.Genge to our Scientific Advisory Board, and we look forward to collaborating with her as we continue our work to find a cure for people living with APBD."
Dr. Genge was one of many speakers who participated in the Foundation's APBD Biomarkers Workshop earlier this year. She shared passionately about work in the ALS space as well as the efforts being made in the ALS community to develop biorepositories — a library of biological specimens, images, and cells collected from ALS patients — which will serve as a resource for scientists seeking to develop biomarkers and therapeutics.
Dr. Genge shared, "I am honored and excited to join the APBD Research Foundation's quest for a cure for APBD. I look forward to helping the Foundation and its community."
Dr. Angela Genge completed her medical degree at the Memorial University of Newfoundland. She completed her Canadian and American certifications in Internal Medicine and Neurology prior to completing a fellowship in neuromuscular diseases.
Dr. Genge joined the staff of the Montreal Neurological Hospital in 1994 and became Director of the ALS Clinic in 1998. Her involvement in clinical research began while still a resident in Neurology. She began assisting Dr. Gordon Francis, the founding director of the CRU at the Montreal Neurological Institute, in early trials in multiple sclerosis and NeuroAIDS. Dr. Genge was appointed Executive Director of the CRU in 2004.
The Foundation's Scientific Advisory Board — under the leadership of Dr. Edwin H. Kolodny, Professor Emeritus of Neurology (NYU Langone Health) — guides the Foundation's work to facilitate APBD research breakthroughs and educational programs. The SAB members also represent the Foundation at various professional and patient advocacy meetings around the world and in the media.