The APBD Research Foundation today announced that Jennifer Orthmann-Murphy, MD, PhD has joined the Foundation's Scientific Advisory Board. Dr. Orthmann-Murphy is Assistant Professor of Neurology and Co-Director of Age Span Fellowship in MS/Neuroinflammatory Disorders at the University of Pennsylvania. 
"We are delighted to welcome Dr. Orthmann-Murphy to our Scientific Advisory Board, and truly appreciate her passion and commitment to helping patients with undiagnosed white matter diseases get to a prompt and accurate diagnosis," shared Harriet Saxe, a member of the Foundation's Board of Directors. "Her many strengths will augment our efforts to address the diagnostic challenges faced by our community, enhance patient care, and move us forward in finding treatments and a cure for this debilitating, ultra-rare disease."
Dr. Orthmann-Murphy was a member of the Planning Committee for the Foundation's APBD Scientific & Community Conference earlier this year. Additionally, she moderated the Conference panel, "Addressing the Challenges of Diagnosing APBD," and also shared passionately about her work on the development of the GSD IV / APBD healthcare guidelines. In 2021, the Foundation tapped Dr. Orthmann-Murphy to be part of the peer-review process for research grant proposals received through the University of Pennsylvania's Million Dollar Bike Ride for rare disease research.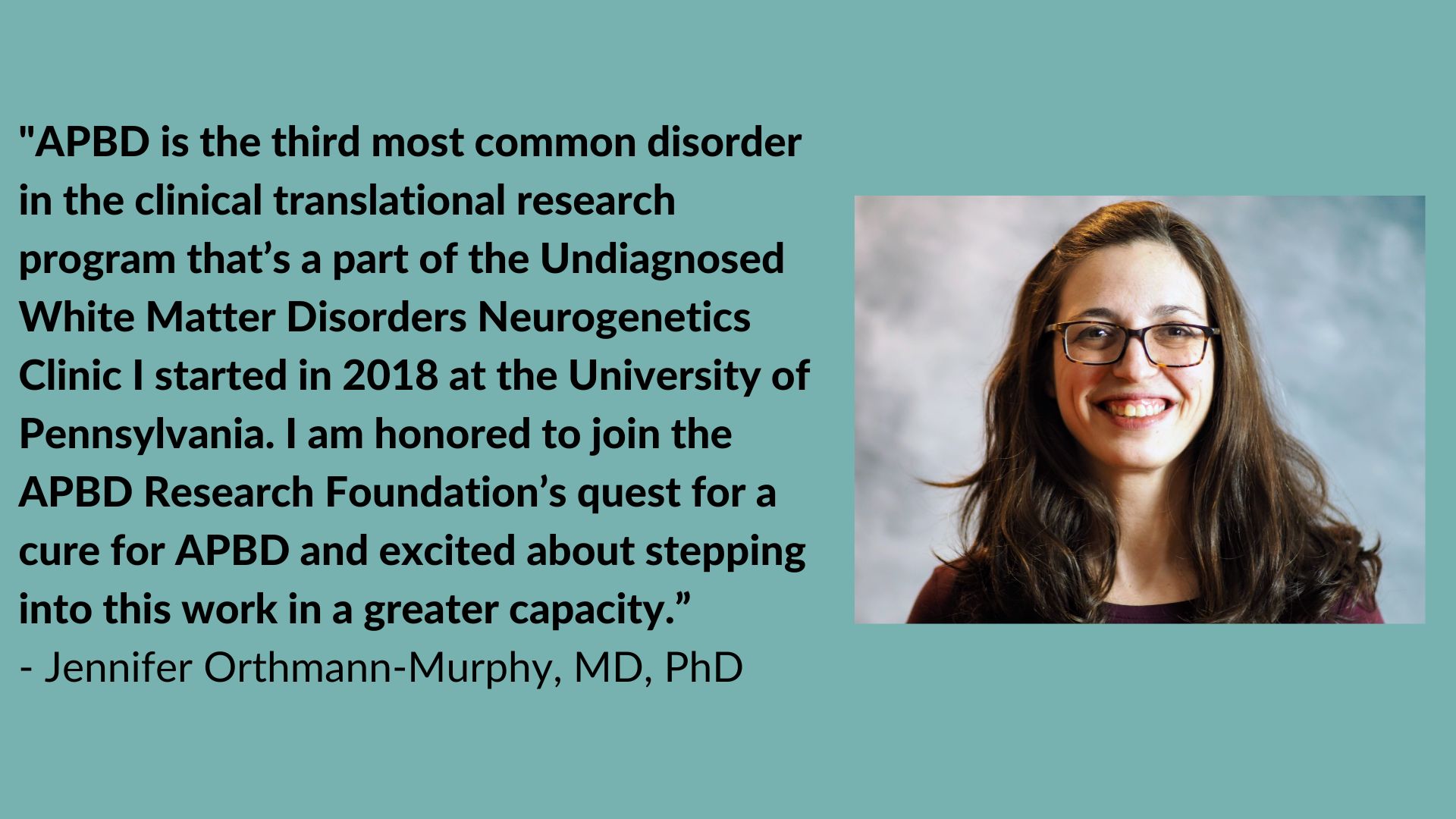 Dr. Orthmann-Murphy completed a B.A. in Biological Basis of Behavior from the University of Pennsylvania in 2001. In 2010, she completed a combined MD-PhD program, with a PhD in Neuroscience, at the University of Pennsylvania Perelman School of Medicine, followed by a clinical and postdoctoral fellowship at Johns Hopkins University. At Penn she leads a translational research program focusing on the role of glial cells in acquired and inherited demyelinating diseases, with the goal to identify glial cell targets for reparative therapies.
The Foundation's Scientific Advisory Board offers scientific and medical expertise to the Foundation's Board of Directors by bringing perspectives from basic, clinical, and translational science. The SAB members also represent the Foundation at various professional and patient advocacy meetings around the world and in the media.