Who in our foundation can forget Robert Zuckerman's big hug at the opening of his KINDSIGHT exhibit in the 92nd Street Y?
Robert was optimistic. He was a force of nature. He was also always ready with a joke, or some clever remark on the tip of his tongue.
Robert went out of his way to befriend and help everyone he met. He thrived on teaching his craft and used it to uncover the mysteries of life.
His KINDSIGHT and good nature inspired many. His extraordinary and compelling photographs of everyday people and the Hollywood elite, gave us deep insights, not only into those he photographed, but our own understanding of the human condition.
These last few years I know have been very difficult for Robert.  And, yet, his optimism barely waned. He brought a special magic to everything he touched and that goes for his work at the foundation as well. He helped bring APBD into the light. Now we know that the work that we have been doing will soon help ease the suffering of not only APBD patients, but also thousands of children with GBE1 and allied diseases. Robert was very proud of this work.
I'm only sorry that promising therapies did not come in time to help him.  This is a great disappointment for us all.
I will truly miss Robert. I loved chatting with him, and when
I was a little bit down, overwhelmed, by the work, Robert would always be there with a joke for me – many of which I cannot repeat here!
Robert's deep caring for family, friends and causes has been a beacon of light for so many.  For me, it has been invaluable.
We will all miss you Robert. We will honor you by continuing to devote ourselves to saving the lives of those stricken with rare diseases.
And we won't forget your sage observation:
"What gets in the way is the way."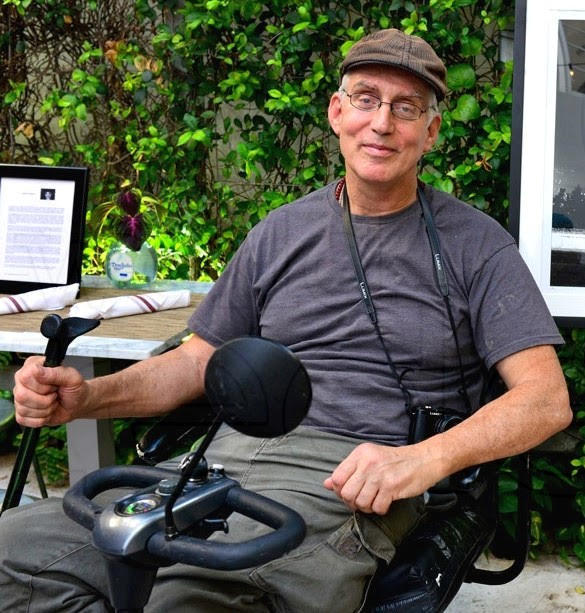 Below are four links –
Two trailers (2014) for the Robert Zuckerman APBDRF documentary and two videos from his brother, Paul, which profiled Robert in 2009 and 2018, respectively .  Please take a moment to enjoy them and appreciate him.
Life Through a Lens" – Trailers
an 8-minute video about his work