Robert Zuckerman has photographed portraits of iconic stars the world over, from David Bowie to Arnold Schwarzenegger.
His prolific career slowed — but did not stop — in the early 2000s after he started to have mobility issues, including developing a limp and losing his balance. He underwent a series of tests ordered by different doctors only to continuously receive no clear diagnosis.
Years later, in 2010, he was diagnosed with adult polyglucosan body disease (APBD), a rare, genetic disorder that affects the nervous system. By then, he needed to use a wheelchair most of the time, further slowing his career.
"Hollywood doesn't really cater to people in wheelchairs," he said in a recent phone interview, "but I kept going on."
At a session for clinical trials in Dallas in 2014, Zuckerman met Jeff Levenson, a dentist from New York. Levenson, who serves as chief strategy officer for the APBD Research Foundation, decided to make a short documentary about Levenson, which resulted in
 Life Through a Lens.
The 11-minute film will screen on Aug. 1 as part of The Kehillah of Chester County's annual Summer Shorts, 
an eight-week film festival
 at the Colonial Theatre in Phoenixville.
It includes footage Levenson filmed along with his daughter Ronete, who served as the film's director and musical composer, of Zuckerman's various exhibits and classroom visits.
The film has shown in nearly 20 film festivals thus far.
"It was a labor of love and for me; I feel like it's a major life accomplishment," Levenson said, noting it was the first film he's made.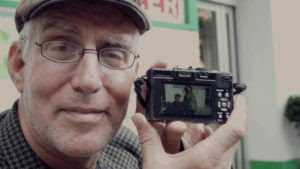 Showing the film will allow viewers to learn a little about the rare disease, which primarily affects Ashkenazi Jews between 30 and 60 years old.
"It's an educational film about a little-known Jewish genetic disorder that nobody really knows about," said Shelley Rappoport, Kehillah of Chester County director.
The disease is often misdiagnosed as multiple sclerosis due to its effects on the nerves, Levenson noted. It's one of 7,000 orphan diseases — defined in the U.S. as a disease that affects fewer than 200,000 people — and of those, Levenson said, under 5 percent have any therapies at all.
While there have been strides, Levenson noted, "If you do the math, it'll take hundreds of years to get to all of them."
He noted the disease's acronym can be used to identify its key symptoms:
A: Ashkenazi Jewish ancestry
P: Peripheral neuropathy, including numbness of the feet and hands
B: Bladder issues
D: Decreased energy
The foundation underwrites testing for the disease, which can be done via a saliva test.
For Levenson, who lost family members to APBD, the film represents a chance to spread awareness.
Added Zuckerman, "It shows, I think, people relate to the fact that someone who's wheelchair-bound, paraplegic, et cetera, is still out doing things and making things happen, and I think that's something that, to me, is a value to other people who have one sort of disease or another."
He's been in and out of nursing homes and hospitals, and used the time to complete a series of portraits of people who came to visit him that he took from his hospital bed, which will show at the Art Basel in Miami where he's based. ("The sixth borough of New York," he joked.)
"Rob inspires me every day," Levenson said. "The film has brought me so much in terms of that inspiration."
The films in the shorts series showcase different aspects of Jewish life.
"It's fun," Rappoport enthused. "Not all of the films are upbeat, a lot are very serious, but the likelihood of people having seen any of these films is negligible."
As the series entered its fifth season — and is already in full swing — it's moved into a bigger space, thanks to a new screening room at the Colonial Theatre, to accommodate the hungry audience.
"People love film and they like to talk about film," Rappoport said. "We have lots of people come who are not Jewish who are members of the Colonial Theatre or people in the area friends invite to come, and we love that we're able to share this with the community."
Marissa Stern
http://jewishexponent.com/2018/07/25/film-series-pick-highlights-rare-disease/