Gregory Weiss
(1947 – 2018)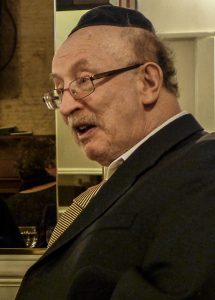 It is with very deep regret that we inform you of the passing today (June 25, 2018) of Gregory Weiss, Founder and President of APBDRF.
I met Gregory thirteen years ago. That was in Dr. Edwin Kolodny's NYU Medical Center office. At that time, supported by brothers Emil and Michael and other members of the Weiss family, Gregory launched the APBD Research Foundation out of the conviction that a cure must be found for the devastating Adult Polyglucosan Body disease. His vision inspired us all – patients, family members, friends, colleagues. Gregory kept us optimistic and our spirits high… despite extreme challenges.
The Foundation is dedicated to increasing public awareness and understanding of APBD, especially in the at-risk Ashkenazi Jewish Community and the medical community, which still remains largely unaware of the disease.
Today in no small part due to Gregory, no child need be born with APBD.
I am personally honored and humbled to have had the opportunity to know Gregory, my friend and mentor. We spent countless hours on the phone with esteemed and dedicated researchers delving into how the foundation could facilitate research into unexplored areas of APBD science. Gregory was an amazing listener who would quietly contemplate lengthy conversations and then ask very probing questions.
Because of the support of the APBDRF and others, a clinical trial is about to begin at Hadassah Medical Center and other important projects are in the pipeline.
I can not fathom Gregory's dedication and positivity while all the time grappling with APBD. I can tell you that I know very few humans who could do what Gregory did – mentally and physically.
I pray that these past years of working with the APBDRF gave him hope and some small sense of satisfaction that the work we are doing – the work he did – will minimize the suffering of others.
To Gregory's family may his memory be a blessing. He was so very proud of his beautiful family.
To our friend and colleague, we will miss you. You remain in our thoughts forever.
Jeff Levenson
---
We all owe Gregory a huge amount of gratitude for his tireless work and leadership in establishing and organizing the Foundation. Condolences to Gregory's family.
David Epstein
---
It is because of Gregory that we are all connected as Family. I believe I speak for all in saying that we owe Gregory profound gratitude in our lives.
While his physical life, and suffering, have ended, his infinite Spirit, Care, Wisdom, Vision and Strength are Transcendent and Eternal and will be with us in, through and beyond each or our remaining breaths.
Years ago I was photographer on filming of "The Crow" where star Brandon Lee's life was cut short by a tragic mishap. A poem came through me at the time in which I said this phrase that fully applies to Gregory:
"Within and through us He shall live on and our lives shall ever be enriched by Him in ways wondrous and untold."
Thank You Gregory.
Robert G. Zuckerman
---
I would like to share with you a story about Gregory giving hope to my wife and I:
When my wife Susan was diagnosed with APBD at the Mayo Clinic in 2006, after being misdiagnosed with MS for almost a decade, I turned to the Internet to see what is next; the Mayo Clinic had not advice for us. I saw the newly formed Foundation and contacted Gregory.
Gregory set up for Susan to work with Dr. Schiffmann at his metabolic unit at  the NIH clinical hospital, near our home. That led to Susan being the first one to be put on the oil at the Metabolic Institute in Dallas. Gregory and others soon followed.
I will never forget Gregory's efforts to help my wife Susan (deceased last August at the age of almost 75).
Larry Schwartz
---
Baruch Dayan haemet
Send my condolences to all the Apbd members and Gregory family.
Ezequiel Singer
---
Our sincere condolences to the family for the loss of Mr. Gregory Weiss. He was a wonderful person who employed all his skills to better the life of all patients with APBD.
Raffi Schiffmann
---
Dear Weiss family, the APBDRF community and Dear All,
I am most sorry to hear this sad news. I will remember Mr. Weiss as a very friendly, wise and energetic man when we first met more than a decade ago to discuss possible ways to boost up APBD research, and when the first idea of establishing the APBDRF came up. He was the one who was able and who was successful in making this idea come true. Since then, his leadership, experience and insight enabled APDRF to bring about a most exiting scientific progress. It is even sadder, that right now we are hopefully so close to starting the next therapeutic trial.
Please accept my sincere condolences,
Alex Lossos
---
Barukh dayan ha-emet.
Zikhrono livrakhah
Rabbi Larry Sebert
---
I am very saddened to hear the news about Gregory's loss. My thoughts are with all of you and his family during this difficult time.
Gabriel Baril
---
I am very sad to hear of the passing of Gregory Weiss. He was a very special man and his tireless efforts to seek a cure for APBD have already led to progress and will likely benefit many in the future.
My sincere condolences to the family-
Sara Shanske
---
I am terribly saddened about the loss of Gregory.
Deberah Goldman
---
My Gregory story:
After being misdiagnosed with MS, my husband LD was correctly diagnosed with APBD in 2008.  This led to my frantic Google hunt to find out anything I could about the disease and to connect with other patients and caregivers.  When I found Gregory Weiss and the APBDRF, they became our lifeline.   Gregory had a real heart to heart talk with me.  He told me that our lives would become much more difficult as the disease progressed but that we could deal with the challenges.  He counseled me most of all to be patient with LD and let him know I still cared deeply for him despite what was happening.  He was so wise.
Susan Coddon
---
My sincere condolences to the Weiss Family. Gregory was a wonderful man and it was an honor to meet him at ABPDRF meeting in NY. I am fully dedicated to you and the APBD community and working hard on making sure that the cure will be found for the patients affected by this disease in the near future.
Best wishes,
Tamar Grossman
---
Friends of APBDF:
We are greatly saddened by Gregory's passing. He was a visionary who foresaw the need for a better scientific understanding of a debilitating disorder that might help others while he himself endured it with courage and resignation. His support spawned an organization with a worldwide reach bringing compassion and hope to others like him. May he be remembered always by the many people who have benefited by his kindness and dedication to improving the lives of so many! Our deepest sympathies on his passing go out to his dear family.     Ed Kolodny
My sincere condolences to the Mr. Weiss' loved ones and the APBD family. Mr. Weiss did so much to help others. He will be missed.
Marvin Natowicz
---
It comes to all of us a sad news the passing of Gregory Weiss, a mensch like few I ever met! I was lucky to meet him, his wife and daughter, when he found the courage of starting APBDF. And I never forget his friendship and generosity with which he supported my modest efforts to study APBD and to consider a useful approach to a therapy, but – more importantly – he equally supported my valuable collaborator, Orhan Akman, in his research.
Both Orhan and I miss him terribly and wish to express our sympathy to his whole family,
Billi DiMauro and Orhan Akman
---
I got the sad sad news! My deepest condolences to the whole family. He was truly such a kind man. I will miss him.
Warmly,
Berge
---
My heart and sympathy go out to the family and community entirely. It has been such honour and inspiration to know Gregory, I will always remember his friendliness, hospitality, and dedication to the foundation. Gregory's light will shine through our research.
Sincere condolences.
Wyatt Yue
---
To family and friends who were so lucky to know Gregory, I share my sympathy with you all and express my condolences to the closest family members for this important loss. I will always keep in my mind his permanent smile and his enthusiasm, which are an example for all of us. Only due to the distance, I will be unable to be there now but I realized that although our bodies are far from each other, our hearts are very close.
A big hug,
Pablo Escribá
---
Dear Emil and family,
We were very sorry to hear about Gregory's passing and send condolences to the family. We owe much gratitude to Gregory for starting the Foundation and working to advance research into APBD. In his memory, our goal is to continue his work and to bring about effective treatments for APBD.
Our thoughts are with you at this difficult time,
Lydia and Bob Dorsky
---
To the Weiss family,
I am so sorry to hear of your loss. He did so much for the organization and inspired us all. I hope the memory of all he did will bring you strength.
Sheri Aleksander
---
I had the privilege of getting to know Gregory at Bais Medrash Kerem Shlomo, a small synagogue near our home where Greg and I were worshippers. Aside from his friendly and welcoming demeanor, I was most impressed by the brave manner in which he faced ever increasing challenges. He never lost faith, consistently attending services and actively participating in all ritual. He was truly a rare human being, one to emulate, one who inspired those around him to live and love life. It was a truly a pleasure and honor to have known him and to have interacted with him. BORUCH DAYAN HARMES… Milton Meller.
Milton Meller
---
Gregory was a mentor to all of us trying to find a cure for APBD. He will be missed. The Lipsig Familyj
Joan Lipsig
---
May the family of Gregory Weiss never know of any more sorrow.
Norman Rosenfeld and family
Norman Rosenfeld
---
Dear Weiss family and the APBD community,
It is with great sorrow and regret that I received this sad news. Gregory was an inspiration to us all and without him there would have been no APBDRF and no APBD research. His devotion, perseverance, kindness and wisdom shall always inspire and guide us. He was a great man and will be greatly missed.
My heartfelt condolences,
Or Kakhlon
---
Mis condolencias para la familia y amigos cercanos de! Sr. Gregory Weiss, yo le conocí en el año 2015 y el se mostró gentil comprensivo y bondadoso a pesar de que no tuvimos el mismo idioma o cultura . Por ello envío con respeto a su feliz memoria, y que su familia a través de esas nobles acciones, encuentre en estos momentos dificiles. Paz
Carmina H.G.
Desde México.
---
I never met Gregory, as a new member of the tribe- Bless him for his courage and insights to support a world free of APBD . My deepest sympathy to his family and to all of us with gratitude. kathi
Kathi Buchholz
---
To the Weiss family,
I am so sorry to hear of your loss. He did so much for the organization and inspired us all. I hope the memory of all he did will bring you strength.
Sheri Aleksander
---
Dear Emil,
It was our honor and pleasure to have worked with Gregory. We are privileged that he chose us to be his homecare agency.
May you and Michael be consoled and comforted by all the good work he has done for the foundation and his exemplary good Middos.
May you know of no more sorrow.
Best regards,
Tabie