New York, NY – The Adult Polyglucosan Body Disease (APBD) Research Foundation is pleased to share that researcher Wyatt Yue, PhD at Newcastle University in the U.K. is the recipient of a $99,025 grant from the University of Pennsylvania's Million Dollar Bike Ride (MDBR) program.
For the sixth consecutive year, the APBD Research Foundation partnered with the University of Pennsylvania's Orphan Disease Center to participate in the Million Dollar Bike Ride program. This program provides a one-year pilot grant to support research related to a rare disease represented in the Million Dollar Bike Ride. 
Last June, the APBD Research Foundation rallied 89 community members to join the APBD Tour de Friends biking team to ride virtually in their neighborhoods, gyms, and homes – as their abilities and options permitted. The group raised almost $70,000 and received a maximum match from the Orphan Disease Center for $30,000 additional. In the fall, APBD researchers worldwide were invited by the Orphan Disease Center to submit proposals for grant support.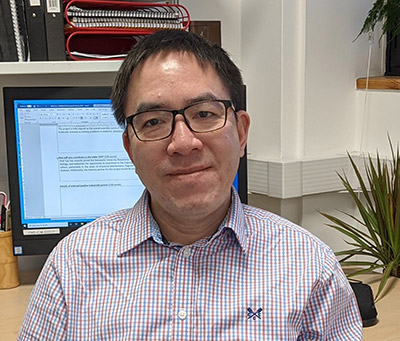 Dr. Wyatt Yue is a professor of structural biology at Newcastle University, where he leads a team of researchers as a part of the Newcastle Structural Biology Laboratory. Dr. Yue's winning proposal titled, "Discovery of glycogen synthase inhibitors for validation as a novel therapeutic target for adult polyglucosan body disease" outlines the development of a novel therapeutic for APBD.
APBD is an ultra-rare, neurological disease with symptoms including progressive neurogenic bladder and bowel, numbness and tingling in extremities, and weakness and fatigue. APBD is an adult-onset form of glycogen storage disease type IV and is caused by recessive mutations in the glycogen branching enzyme (GBE1) gene. GBE1 is an important enzyme involved in building the sugar storage molecule glycogen, and insufficient GBE1 leads to the formation of abnormal glycogen clumps called polyglucosan bodies. In APBD, polyglucosan bodies build up in the central and peripheral nervous systems and drive disease progression.
There are presently no treatments for APBD; however, one therapeutic strategy that has shown promise is to reduce the activity of an enzyme called glycogen synthase (GYS1), which is involved in the process of making glycogen. Dr. Yue's research proposal describes the development of a "small molecule" drug that reduces glycogen synthase activity to prevent polyglucosan body build up.
Dr. Yue shares, "Our vision is to develop a daily pill for APBD patients as a transformative oral therapy. In the first step towards this goal, we aim to develop small molecules that act on the glycogen synthase enzyme as a drug starting point. We will take advantage of our unique knowledge about the shape of the glycogen synthase enzyme, which helps us identify the best region in the enzyme to target, and then design small molecules to target it using cutting-edge computational and screening methods."
Harriet Saxe, a member of the APBD Research Foundation's Board of Directors shares, "Our partnership with the Orphan Disease Center's Million Dollar Bike Ride has yielded critical research advancements for APBD over the past five years by funding nine research grants. We are grateful for the commitment of the Orphan Disease Center and of researchers like Dr. Yue to moving our community closer to a world without the devastating effects of APBD and allied disorders."
This June the APBD Research Foundation will be participating in the 2022 Million Dollar Bike Ride – once again bringing the APBD community together to accelerate research. 
About the Adult Polyglucosan Body Disease (APBD) Research Foundation
The APBD Research Foundation's mission is to improve the diagnosis and treatment of APBD patients, support individuals and families affected by the disease, and increase awareness of APBD among health professionals and the public. To learn more about APBD and the APBD Research Foundation, visit apbdrf.org.
About the Orphan Disease Center
The Orphan Disease Center is a non-profit organization based in the University of Pennsylvania's Perelman School of Medicine. Its mission is to develop transformative therapies using platform technologies that can be deployed across multiple rare diseases. The Orphan Disease Center focuses on disorders having substantial unmet needs independent of their incidence and strives to assure access to patients of all populations. The Million Dollar Bike Ride's 30+ teams have raised over $10 million to fund research grants on the diseases they represent. The Orphan Disease Center ensures that 100% of the funds raised goes towards these pilot grants, with no overhead taken out. To learn more, visit orphandiseasecenter.med.upenn.edu.