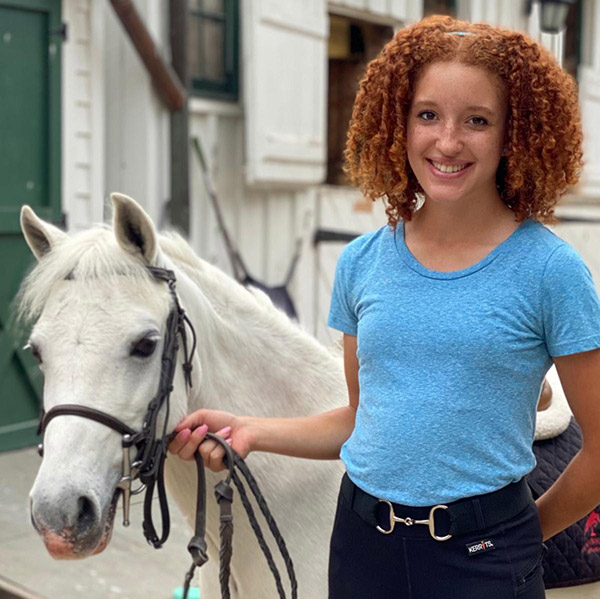 Camille with "Bunny" at Meadowbrook Stables in Chevy Chase, Maryland
We are pleased to introduce you to Camille Keene, the newest addition to our team. We partnered with Second Day to find Camille who is studying Political Science at Howard University. Camille will help us develop key communications that support our efforts to grow our programs and make treatments and a cure a reality. 
We interviewed Camile recently to give you a chance to get to know her:
Q. Where have you interned prior to this role? 
Camille: Over the course of the past four months, I was a press and legislative intern for the House Committee on Education and Labor. I worked on the press team over the summer, and I transitioned to working with the health and labor teams in the fall. In this role, I got to work with a range of stakeholders, including the Melwood Group, the American Spinal Injury Association, and the Northwest Indian College. I also got to experience the American healthcare system from a legislative perspective. 
Q. How do you spend your free time?
Camille: I love to read, hangout with friends, and watch TV. Right now, I am reading Women, Race and Class by Angela Davis. When I am home (Houston, Texas) I take English horseback riding lessons with my younger sister. Until recently, I taught horseback riding lessons to young children at a barn in Maryland. 
Q. Where was the last place you traveled? 
Camille: I love to travel, so I do it as often as I can. A few weeks ago, I went to Portland, Oregon to visit a friend. We drove down to the coast through Tillamook and walked along the beach in Manzanita. The rest of the weekend was spent relaxing and hiking. 
Q. Through your work with the APBD community, you aspire to… 
Camille: I aspire to grow in my professional skills as well as my interpersonal skills. Through my work with the APBD Research Foundation and the patient and research community, I hope to develop the crucial skills needed to be a powerful advocate for sharing the patients' perspective, improving care, and accelerating research.