By Bruce Rosky, Caregiver and APBD advocate
January 4, 2023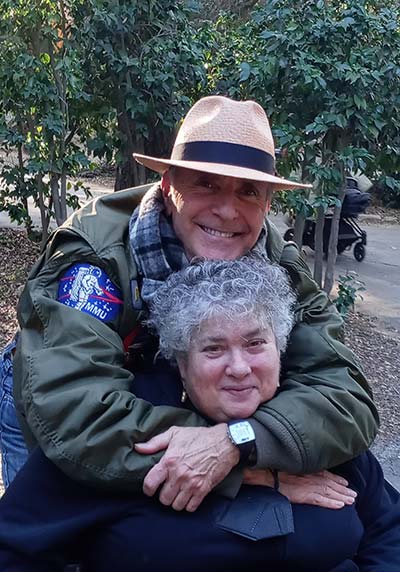 It was in 2012 that I started to realize that my wife Jennifer's memory lapses were a significant sign to be taken seriously. That insight set us on a four-year journey, during which we engaged four neurologists in our quest for an answer. At last, Dr. Brent Fogel at the David Geffen School of Medicine at UCLA diagnosed Jennifer with adult polyglucosan body disease (APBD), an ultra-rare, neurodegenerative disorder characterized by a deficiency of glycogen branching enzyme, resulting in the accumulation of polyglucosan bodies in muscles, nerves, and various other tissues. The polyglucosan bodies are particularly toxic to neurons, causing progressive central and peripheral nervous system degeneration. This manifests as trouble urinating (neurogenic bladder), stiff and weak legs that impair walking, numbness in the legs, fatigue, and in some cases, cognitive decline.
Hearing this diagnosis felt like a punch in the stomach, especially when Dr. Fogel added, "There is no cure." This did not fit with the vision Jennifer and I had for our future years together. We were in the prime of our lives, embracing our careers, raising our children, and living an active lifestyle.
At the moment we received the diagnosis, I went into problem-solving mode. To this day, I still look for solutions and think I can solve the problem. At first, the issues were easily managed, but as time passed, the challenges have become greater. We've gone from incontinence pads to catheters, walkers to wheelchairs. Each month, new symptoms arise. Now, Jennifer's temperature is unstable, as is her gastrointestinal system. I hope I can always help my partner with whatever she needs.
About two years ago, earlier than I expected, I retired from my work as an administrator in higher education so I could be more present with Jennifer and also take care of household needs. I spend my time making adjustments around our home to support my wife's diminishing mobility and cognition, keeping her comfortable, entertained, healthy, and safe, and solving the issues that arise as her symptoms evolve and progress.
My caregiving role has two sides: "The What-Can-I-Do," or the thinking part, and the "How-Are-We-Feeling," or the emotional part. Both are equally important. When we're together, I try not just to do something to get it done, but to be in the moment and aware of where we are and to be mindful, even if it is as simple as just holding Jennifer's hand. I meet Jennifer where she is on each day. Our clinicians provided no social service resources, so I find support for both sides of caregiving from the APBD Research Foundation's monthly Caregiver and Family Chats, where I connect with other caregivers. There is not a lot of information one can find anywhere else on APBD. Being a part of this Chat program helps me stay mindful and in the moment.
Jennifer and I maintain a strong partnership. I often refer to APBD as "our illness," and I refer to my wife as my hero because of her strength through all she has endured and continues to endure. However frustrated she may be, she is very accepting and figures out how to get through it.
When new challenges arise, I meet them with creativity. For example, when our grandson was born in 2021, I helped Jennifer to remember his name by posting pictures of the baby all over the room.
It was only recently, in the last year or so, that I have looked at the long-term, at the trajectory of what APBD is. I am learning that we can only live each day as it comes. I meet Jennifer where she is on each day.
Jennifer and I have enjoyed many years of love and togetherness. I honor our partnership by "living in the now" and appreciating the little things when I care for my wife's struggles with APBD. I remind Jennifer often, "You are as strong as you are today; and today, this is where we are."
Editor's Note: Our thanks to Bruce and Jennifer for sharing their experiences! We appreciate Dr. Kevin Pho, host of KevinMD.com for publishing this story. The KevinMD.com platform receives over 3 million monthly page views, with over 250,000 followers on Twitter and Facebook. A shout-out and thanks to Camille Keene, our SecondDay Fellow, for drawing out this powerful narrative with Bruce.
Get research news updates from us!