By Feigy Weiss Rosenberg
July 28, 2020

Editor's Note: This is the first in a series of articles written by Feigy W. Rosenberg, daughter of the late Gregory Weiss who was one of the co-founders of the APBD Research Foundation. Feigy shares her perspective with a heart for helping families affected by this devastating disease. She also shares her hopes for taking on the fight to cure APBD.
Some of my earliest childhood memories include play boxing on Saturday mornings in my parents' bedroom, walking along the planters of hotels in Miami Beach while holding my dad's hand, and going for pizza with my dad to Shalom Pizza, down the block from his office on 37th Street in New York City. I was daddy's girl. I was that little girl who would sit by the window and wait for her dad to come home from work every evening.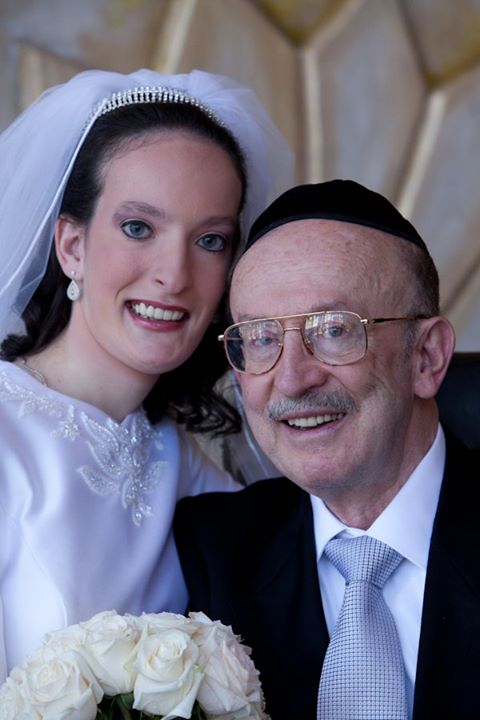 Watch Feigy's narrative here…
My dad, Gregory Weiss, was an immigrant from the former Soviet Union. My dad — his brothers Emil and Michael, and their parents — moved to the US in 1975 at the age of 27, seeking a better life. He was a graduate of the Medical School of Vinogravovo and Uzhhorod National University. He was accepted by NYU into the Nuclear Medicine Technology program. After graduating, he was offered a teaching position at NYU, which he accepted. A few years later, he walked away from this career path because he wanted to spend more time with his family.
In 1982, with his brothers Michael and Emil, Gregory started a jewelry manufacturing business in Manhattan. They named the company EMG Creations, Inc. It only took a few years for EMG to become a household name. I loved going to the office with my dad and watching the jewelry manufacturing process. Every so often, my dad would take me to the back of the office and invite me to pick out a piece of jewelry for myself. I felt like I was living every girl's dream!
I remember when I was thirteen, I came home from school one afternoon and my parents told me I would be staying with my uncle Emil and his family for a few days. My parents were going to Rochester, Minnesota to meet with neuropathy expert Dr. Peter Dyck at the Mayo Clinic. For two years, my dad experienced tingling sensations in his feet as well as weakness in his legs. None of the doctors he had seen so far were able to figure out what was causing these symptoms that were progressing so quickly. A few days later, they returned home discouraged because they still did not have any answers.
Get research news updates from us!
My dad struggled with his mysterious symptoms for 3 more years until he met with Dr. Norman Latov – a renowned neuromuscular specialist – at Columbia University. Dr. Latov convinced my dad to undergo a painful procedure called a sural nerve biopsy which revealed microscopic accumulation of particles called polyglucosan bodies in the nerve tissue and confirmed his diagnosis: Adult Polyglucosan Body Disease (APBD).
As a teenager, I watched my father — who was strong and invincible — come to terms with losing his independence. He would come home from work and share that he had fallen in the office and needed his coworkers to get him off the floor. Even the walk to visit his parents' home — two blocks away from our home — became too difficult for him.
My dad's brothers were very worried and supportive during the entire ordeal. Quite often, they called to check in on my dad and my family. In fact, the entire family was always ready and willing to help us.
A story that stands out in my mind until this day was the loss I experienced when I was 14 years old. It was a week before the holiday, Sukkot. My dad could no longer build our sukkah with me, liked we did every year. My maternal grandfather stepped in to build it. I remember being upset about the loss of the tradition my dad and I had shared.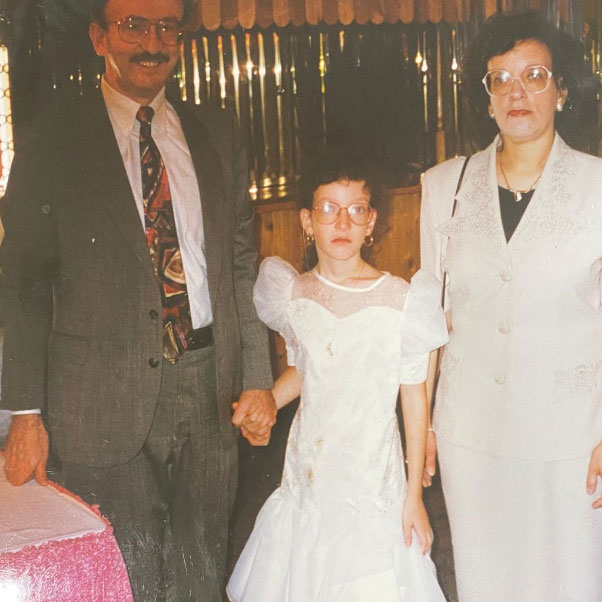 "I was going through my teens and I found myself forced to grow up quickly. My mother helped me through the unfair reality of caring for the physical wellbeing of my dad, instead of being taken care of by him."
My relationship with my father became strained over the next few years. He was frustrated by how APBD was robbing him and this impacted me and my mother as well. My mother, Phyllis, was a pillar of strength for my dad and for me.
I remember how my dad would hold on to my shoulder to stabilize himself when walking and how he needed me to walk with him to the synagogue even though it was only a short block away from home because he was afraid of falling. It was hard for me to accept that we couldn't go to a museum, take a daytrip, or go out for dinner anymore.
In January 2005 — at the suggestion of my dad's neurologist Dr. Edwin Kolodny – we went to Israel to meet with Dr. Alexander Lossos at Hadassah Hospital. Dr. Lossos had discovered, back in 1991, that low activity of glycogen branching enzyme was the cause of APBD. I remember Dr. Lossos being younger than we expected. He was attentive and caring, and he listened closely to my parents as they shared the symptoms and asked questions. He addressed their questions and explained that one big problem with APBD was the lack of physician awareness, and another problem was the lack of research because there was a lack of funding.
My father remained in contact with Dr. Lossos after we came home. With guidance from Dr. Kolodny – and with his brothers Michael and Emil – he began the work of setting up the Adult Polyglucosan Body Disease Research Foundation. My father had a mission:  to ensure that no one else would have to suffer the way he did, and that the Foundation would find a treatment and a cure for this terrible disease.
In 2007, the APBD Research Foundation participated in the American Academy of Neurology's annual conference in Boston, Massachusetts. Over the course of the two-day event, we were shocked. One after another, doctors would stop at our table and stare at us blankly when they heard "APBD."
I wondered, "How could we hope my father would get better, that any of these doctors would be able to help him, when we knew more about APBD than they did?" We knew that we had to press forward.  My father devoted his life to the Foundation, speaking with other patients, meeting with doctors and researchers … doing anything he could to spread awareness of this little-known disease that was now ravaging most of his body.
I was 27 when I married Mark Rosenberg. Mark and I were set up by a family friend. We became fond of each other quickly. It took some time for my dad and Mark to build their relationship and accept that we were going to get married. I don't recall talking with my dad about marriage in general; I often wish that I had. A few weeks ago, I overheard Mark share with a friend that my father was the type of father-in-law any son-in-law would be lucky to have. It made my day. I was reminded, too, of my dad's funeral service, where Mark was unable to complete his eulogy because he was overwhelmed by his loss.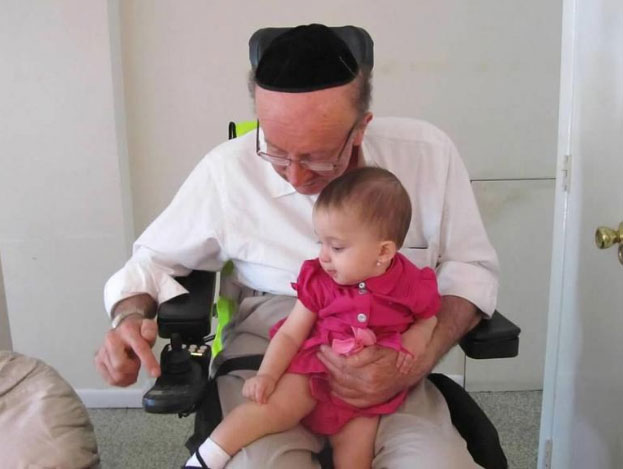 "When my first child was born in 2011, I began to see a side of my dad that I hadn't seen in a long time. He was softening up again. He couldn't run around with the grandkids or sit on the floor with them as they played or carry them around like most grandfathers could. But he showered his grandkids with love and attention."
When asked about their zeidy (meaning grandfather, in Yiddish) my children will tell you about wonderful memories of riding around on their grandfather's electric wheelchair.
It's been two years since my dad passed away. My children were too young to understand the complexities of APBD and how it had affected my dad, but they remember him with love and fondness. And, I hope to share – when they're older – more about my father's life and courage in the face of APBD. My children will know that their zeidy changed the world.
Get research news updates from us!